BACK
Sonido SWR069 - elliptical speakers
Suddenly I was sent a pair of new 6 by 9 inch fullr-range drivers from Sonido. The enclosed drawing showed a rather big-ish 80 litre bass-reflex box and BR-ports and screws.
I knew that the Sonido people wanted to present their newest driver to the people up here in the cold North,and they knew I was a big fan of theirs .
Instinctlively I checked the prices for 22mm MDF and started to make plans for my router to make the oval hole in the baffle. But I gave up, knewing that my router had some serious flaws and making an oval hole started to look like a mission non-possible. So I sent an enquiry to TQ audio and after some discussions I decided to let TQa make all the woodwork for me and I recently picked up two big cabinets ready for some paintjob and at a reasonable price. The job was perfect with almost invisable joints that were made in a fashion that no ends of the MDF was visable.
The cabinets are ready for a last cover of paint.
DRAWINGS
SPECS
PHOTOS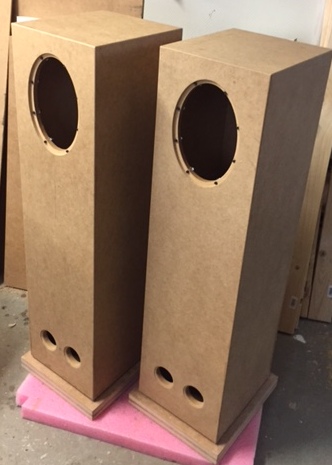 Look at the joints. They are in practice invisable.
And a pretty subjective comment about the sound! My hornspeakers are great, but these are that EXCELLENT, that they literallay knock your head off!
LINKS