BACK
EL84 PushPull
I found a pair of cheap PP-transformers and they appeared to be very suitable for a EL84 amplifier. First I had planned to go for the design found in Morgan Jones "Valve Amplifiers" but was adviced to avoid that very construction as the driver tubes aren't able to drive the EL84 fully. Instead Lasse Ohlsson (ElektroAkustic & Music) proposed a different solution.
I had the amp finsihed but ran into some problems, either due to a faulty mains transformer or bad electrolytics and lost interest in continuing the project. Maybe I will soon find some more inspiration and continue but using different tubes - EL81, that are a sort of 6AQ5 with anode connector on top. Also the "guts" are secured very good using thick mica plates, making it very reliable.
SCHEMATICS
Note the use of the 12DW7 with different triode halves.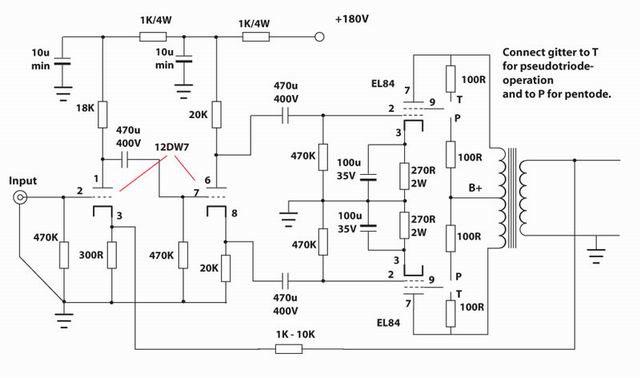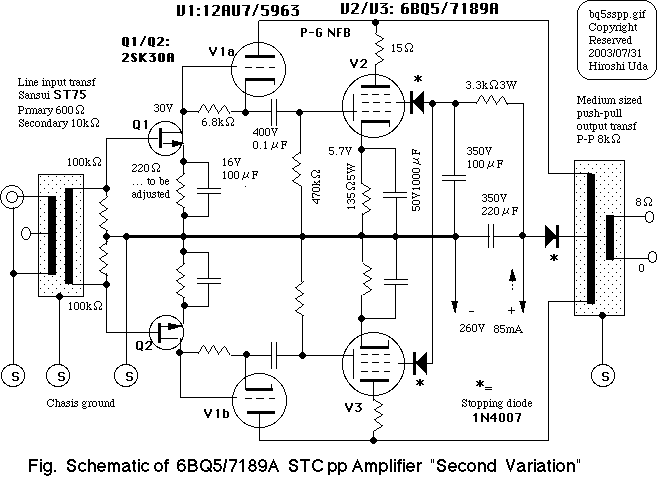 PHOTOS